Sitting for a long period of time or constantly looking down at your device can cause build up of uncomfortable neck pain, headaches, pinched nerves, discomfort, or even bad posture.
Our next-gen Neck Relief E-Massager is an easy-to-use electro pulse device that 
alleviates spinal pressure,
relaxes neck muscles, 
and 
promotes an increase of blood flow 
to relieve
 neck related pain and discomfort.
☑️
RELIEVES NECK PAIN & DISCOMFORT
By stimulating stiff neck muscles, it prevents and alleviates habitual bad movements of your neck and spine, restoring proper neck posture.
☑️ REDUCES STRESS & IMPROVES POSTURE
The Massage Magnets weakens tension in your nerves and stimulates muscle relaxation through the use of electro pulse therapy.
☑️ ENRICHES OXYGEN & BLOOD FLOW
An increase of blood flow that boosts oxygen into your muscles that help alleviate pain, headaches, disc herniations, neck muscle spasms and other adverse symptoms.
☑️ HELP MILLIONS AROUND THE WORLD
We donate a portion of its proceeds to leading organizations that
help fight against chronic neck pain, spine disease, and other related illnesses
. 
If you would like to learn more, you can visit these organizations and charities here.
T.E.N.S. (Transcutaneous Electrical Nerve Stimulation) Pulse Pads send stimulating pulses along nerve strands and across the skin's surface. These impulses help reduce pain by encouraging the body to produce more endorphins and act as a natural painkiller. If you are looking to purchase additional T.E.N.S Pulse Pads click here.
☑️ REDUCES MUSCLE FATIGUE & SORENESS
Utilizing the T.E.N.S. Pulse Pads, it can target and hone in on aching muscle areas alleviating habitual pain, restricted muscle movement, and built-up lactic acid in muscles.
☑️ DIMINISHES PAIN SIGNALS TO THE BRAIN
By stimulating your nerves through electro pulses, it releases endorphins that help decrease or block pain signals to the brain, providing you with the pain relief you crave.
☑️ DRUG-FREE, NATURAL PAIN RELIEF
Our T.E.N.S Unit attachment is a perfect alternative to avoid the use of medication and their side effects, as well as effectively alleviate chronic and acute pain in the treated stimulated areas.
FAQ: HOW DOES T.E.N.S. RELIEVE, DECREASE, OR ELIMINATE PAIN?
The Gate Control Theory suggests a neural mechanism in the spinal cord that acts as a gate, shuts down or opens up the flow of signals from the periphery to the brain and change the perception of pain in your body. Using the T.E.N.S Pulse Pads, the body uses the electro pulsating sensation to signal the brain and release extra endorphins to the stimulated area and thus reduce pain.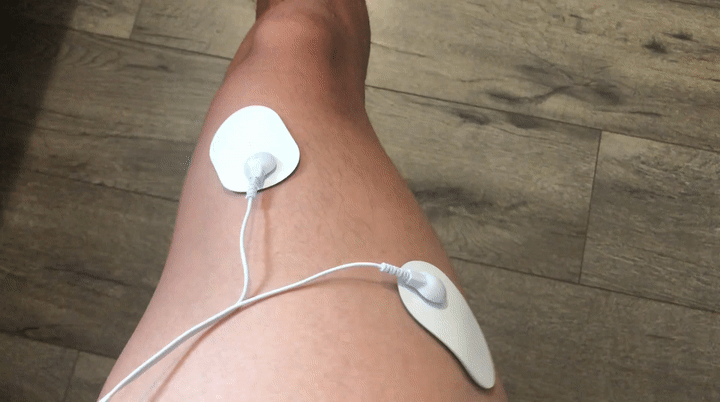 The Endorphin Release, uses electrical impulses to stimulate the production of endorphins and enkephalins in the body. These natural morphine-like substances block pain messages from reaching the brain, in a similar fashion to conventional drug therapy, but without the danger of side effects.
If you like to learn how to use the device, visit our E-Massager's How-To-Use guide here for more info.
The Neck Relief E-Massager 
Combining modern electro-pulsating technology, (similar to physical therapist treatment) the E-Massager helps breakdown stiff muscles and alleviate pain and discomfort, supplementing and promoting blood circulation.
Its convenient and adjustable design sits flush for any size neck to align with the natural curvature of your cervical vertebra.
The device adopts the benefits of low frequency electric therapy, magnetic therapy, and percussion therapy to massage and loosen up deep tissues all along your body.
T.E.N.S. Pulse Pad Attachment
Electrodes are placed at specific areas on your body depending on the physical location of their pain.
The T.E.N.S Pulse Pads send electrical currents that travel through electrodes and into the skin, stimulating specific nerve pathways to produce a tingling or massaging sensation that reduces the perception of pain.
SHIPPING AVAILABILITY: Worldwide
SHIPPING POLICY:

 

Standard Ground Shipping
PREPARING SHIPMENT:

 

1-3 Business Days
DELIVERY ARRIVAL: Estimated 3-5 Business Days
WARRANTY GUARANTEED:

 

12 Months (Visit our

 

FAQ's

 

for more info)
POWER SOURCE: Two (x2) AAA Batteries
PACKAGE INCLUDES: 
1 Neck Relief E-Massager, 1 T.E.N.S Attachment, 2 T.E.N.S Pulse Pads, and 1 User Manual. *Due to Custom Clearances, batteries are not included.